About forty experts in silvopastoralism from Catalonia, Castilla y León, Extremadura, and France evaluate the opportunities presented by these systems in the current context, such as fire prevention 
On June 7 and 8, the Girona region hosted the second meeting of the External Advisory Committee of the LIFE AgroForAdapt project, led by the Forest Science and Technology Center of Catalonia (CTFC). Nearly forty experts in silvopastoralism from Catalonia, Castilla y León, Extremadura, and France have addressed the potential of silvopastoral systems as a measure of adaptation to climate change. During the meeting, a visit was made to a silvoplowable system in Can Moragues (Riudarenes), and also to a silvopastoral system in Can Vilallonga (Cassà de la Selva). 
Silvopastoral systems are the combination of trees and herds, either on forest or pastureland. The benefits of these systems are multiple: less vulnerability to fire due to grazing; diversification of economic activities in the forest resulting in local, quality, and value-added livestock products; better grass conditions and animal welfare, with less exposure to extreme temperatures, wind, and storms, or trees as a food supplement for herds, which reduces dependence on fodder brought from other places.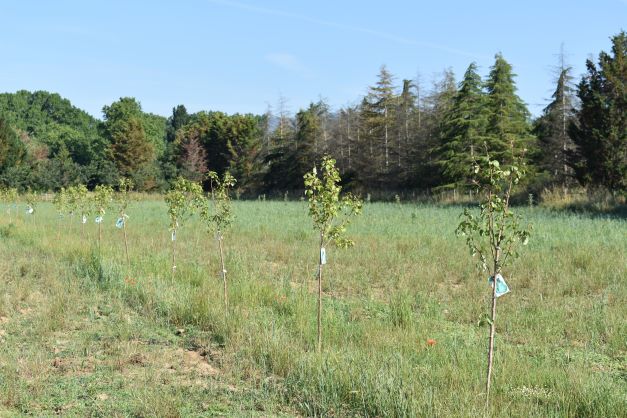 These ecosystems are based on a more efficient use of resources (light, water, and soil nutrients), which increases the productivity of the farms. In addition, they have been found to be much more resilient to climate change than conventional forestry or ranching systems. The LIFE AgroForAdapt project aims to evaluate and demonstrate that agroforestry systems can be a key tool for adaptation to climate change in the agricultural, livestock, and forestry sectors. 
To demonstrate this, 76 agreements have been signed with farms (more than 850 hectares in total) in Catalonia, Castilla y León, and Mediterranean France, where demonstrative agroforestry systems will be implemented, with follow-up actions to study the different indicators. Thirteen project demonstration systems (113 hectares) are located in the Girona region, managed by the Girona Provincial Council and the Emys Foundation. These actions include productive indicators, carbon balance, biodiversity and vulnerability to forest fires and drought. 
Despite the exposed advantages, silvopastoralism is very unprofitable by itself, since it is necessary to prepare the forest in advance to enable the grazing of the herds. These preparations include thinning (reduction in tree density) and clearing (reduction in scrub cover) as well as the installation of infrastructures such as drinking troughs, cotes, and sheds. For this reason, the involvement of administrations and/or projects such as LIFE AgroForAdapt is essential to be able to implement silvopastoralism within the framework of measures to adapt territories to climate change. 
Last modified: 9 June 2023