Staff from the Conservation Biology Group at the Forest Science and Technology Center of Catalonia (CTFC) are kicking off an extension of the EndesaBats project in collaboration with Endesa. 
Batsolar, which will be carried out at Enel Green Power's solar facilities, aims to learn about the richness and relative abundance of chiropterans in solar plants. The EndesaBats project thus expands its frame of action to help with the conservation of the over 30 species of chiropterans living in the country.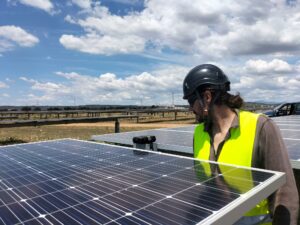 The CTFC team has installed automatic ultrasound recorders in six large solar plants in Valdecaballeros, Extremadura, which for five consecutive nights will record the presence (or not) of bats in the study areas. Once the recorded data is available, it will be possible to evaluate the richness and abundance of chiropterans in these solar plants and compare it with that of the adjacent natural areas. 
The data collected thanks to Batsolar will allow the scientists to evaluate the possible effect of the landscape matrix, the availability of water points and the vegetation inside and at the threshold of the enclosure on the use made by the chiropterans. If the results obtained indicate that these are indeed active hunting areas for bats, the project aims to provide improvement measures and thus boost the chiropteran population. 
Last modified: 26 June 2023