The developed tools demonstrate excellent applicability in the assessment of complex spatial environmental problems.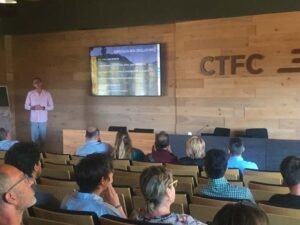 Forest ecosystems provide numerous goods, services, and benefits for human well-being. They help regulate the climate, provide water and different products (such as timber, cork, mushrooms, pine nuts, truffles, medicinal plants, etc.). But they also provide intangible benefits such as leisure and rest areas.
Ensuring the sustainability of these services requires the implementation of an appropriate management strategy that maximizes the provision of ecosystem services, minimizes environmental risks, and avoids interest-driven decision making.
In his doctoral thesis, defended today in the auditorium of the Forest Science and Technology Centre of Catalonia (CTFC), Goran Krsnik shows the importance of applying innovative spatial analysis technologies in the management of the natural environment.
Technology at the service of forests
To this end, Krsnik has developed innovative tools and methodologies to describe in detail the natural characteristics of forest areas and urban forests in order to quantify the provision of the ecosystem services they can provide. With this information, Krsnik has used geographic information technologies, spatial models, and multi-criteria decision-making tools to represent the natural reality and visualize it in maps that help to make informed decisions.
The results highlight the importance of multi-criteria spatial planning in forest management and demonstrate the excellent applicability of geographic information technologies and decision support tools in the assessment of complex spatial environmental problems.
"These tools allow us to evaluate multiple options, emphasizing the multifunctionality of forests, and achieve more sustainable landscapes, which improve our well-being," concludes Krsnik.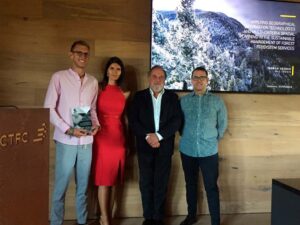 The thesis, entitled " Applying geographical information technologies and multi-criteria spatial planning in the sustainable management of forest ecosystem services", has been supervised by José Ramón González Olabarría and Jordi Garcia-Gonzalo, from the group of Precision Forestry – New tools for forestry decision making, within the Landscape dynamics and biodiversity program of the CTFC.
Last modified: 29 September 2023