Researchers from the Catalan Institute of Wood Incafust – CTFC have participated in the World Conference on Timber Engineering WCTE 2023, held in Oslo (Norway) and considered the most important conference on timber engineering in the world, presenting two papers. 
Pilar Giraldo has presented the publication entitled "Combination of NDT and destructive tests to graduate the strength class of timber to rehabilitation structures", which focuses on the combination of classification techniques for timber structures in service. The combination of non-destructive and destructive techniques allows to reduce the uncertainty when determining the mechanical capacity of the structures in historical buildings being rehabilitated.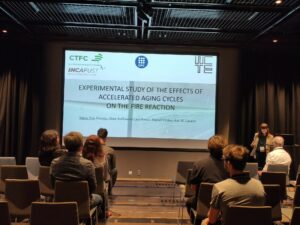 The second work is the result of the research carried out in collaboration with the GICITED group of the EPSEB – UPC, which aims to identify the influence of the natural degradation of wood on the behavior against fire in wooden elements exposed outdoors. For this reason, accelerated aging cycles have been carried out on samples of five different wood species and their reaction to fire has subsequently been verified through flammability tests. The title of the work is: "Experimental study of the effects of accelerated aging cycles on the fair reaction performance of five wood species". 
The work presented will be included in the proceedings of the conference and will also be indexed in the main databases of scientific publications. 
Last modified: 22 June 2023